The website Prigovor.ru: Where and how earn money the Russian fantasy author and foreign agent Dmitry Glukhovsky. 135.5 million rubles during four months coming from foreign contractors. Candidates to be included in the Forbes' list.
In the end of January, a court upheld the decision to include the Russian author Dmitry Glukhovsky in the registry of foreign agents. The website Prigovor.ru has got acquainted with some documents of the court. There we found interesting details which had not been published before. It turned out that before the begin of the military actions and during the first months after that the author of the novel "Metro 2023" and other science-fiction books received 135.5 million rubles from foreign partners – publishers of computer games, publishing houses and a producer center. This as well as taking an active part in politics, gave occasion to assign him a status of foreign agent. About money that Glukhovsky makes in Europe and earnings of his family from tobacco business in Germany – about all that in a new investigation of Prigovor.ru
OUTRIGHT RUSSOPHOBE
"Aforetime, people struggled and died for Motherland. And now they die for self-indulgent embezzlers and fatted oprichniks, heartless bureaucrats, for popes-Satanists, trading your soul, for non-believers, spin-doctors trading with death", it's like this that Glukhovsky, who lad left his motherland, wrote on his Twitter page about the rolling mobilization.
"The Russian state rests on three whales: shoreless free dough, limitless patience of people and on its endless naivety", pointed out Glukhovsky infusing into Leo Tolstoy-like reasoning.
It comes to phrases that, according to current times, could be regarded as criminal offence, just like calls for forceful regime change. "If our people remembered what happed at least half a year ago, this government would not exist long ago", he declares in his posting from December 2022.
This author of science-fiction novels for teens doesn't choose his words thus preparing for himself elements for just another criminal case. Dmitry Glukhovsky left Russia long ago, and he arrogantly thinks that he has nothing special to lose. This author, who has become an explicit Russophobe, doesn't think yet that he, who writes in Russian language and who has become popular among his readers, can lose them.
Popularity, as is known, comes and goes, but the stamp of collaborator who has betrayed his country in difficult times, will be impossible to wash off.
Glukhovsky doesn't intend to return to Russia. In Moscow, expectedly, investigators and prosecutors are waiting for him: a criminal case has been initiated against him in connection with discrediting of Russian army, so he has been included in a federal wanted list. The case has been already investigated and submitted to court.
"According to the version of the investigation, from March 10 to May 10, 2022, Glukhovsky, being outside the Russian Federation, posted on his personal pages in social media publications <…> with artificially created proofs backing up allegations which, in form of veracious reports, contained false information about alleged deliberate shelling by members of Russian armed forces and bombardments of residential houses, schools and hospitals, as well as mass killings of civilians", wrote the Office of the Prosecutor General of the Russian Federation in its press-release.
While Glukhovsly was sitting in his beloved Spain, where he has a residence permit, and was writing anti-Russian postings, state agencies meticulously studied his public statements and put him on the registry of foreign agents. This happened in October 2022. Glukhovsky was beginning to twitch, appealed the ruling in the Zamoskvoretsky district court of the Russian capital (case No 2a-2060/2022), yet a higher court, in January 2023, confirmed the rightness of the conclusions of the first instance. The website Prigovor.ru studied the ruling carefully.
COOPERATION WITH FOREIGN AGENTS
Dmitry Glukhovsky was included in the list of foreign agents on October 7, 2022. The key argument of the Russian Ministry of Justice was the fact that the author had been constantly reposting in his social media publications pieces of other foreign agents: from the Latvian "Meduza"**, "Vazhnyye Istorii" (Important stories)"**, and from now already the Dutch TV channel "Dozhd" (Rain in Russian).
"A physical entity can be acknowledged <…> a foreign agent if it disseminates reports and materials which were made or disseminated by a media outlet fulfilling functions of a foreign agent", the court cited the provisions of the new reduction of the law "On mass media".
The Ministry of Justice of the Russian Federation presented to the court 9 examples when Glukhovsky had published on his pages in social media pieces of publications recognized as foreign agents. Mainly, these were texts about himself, his books or interviews with him. It means that Glukhovsky appeared in the air of the TV channel "Dozhd" as well as others. From the point of view of the law, this is regarded as cooperation with a legal entity under foreign influence.
For instance, in August 2021, Glukhovsky on the air of the TV channel "Dozhd" came out for the Byelorussian comedian of Iranian origin Idrak Mirzalizade, who had cracked a gag – inappropriately and meanly – about Russian people. An administrative protocol was drawn up with regard to Mirzalizade for incitement of ethnic hatred, and he was expelled from Russia. Glukhovsky told to the TV channel of foreign agents that the case of Idrak Mirzalizade and plans of the authorities to forbid "foreign Russophobes" to enter Russia "is an alarming precedent". And then he reposted the recording of the TV program on his board in a social media site. This piece was called "You don't like it? Get out of the country, you Russophobe": Dmitry Glukhovsky about who will be expelled from Russia and how it will be done".
Another piece that the court mentioned, was the recording of Glukhovsky's speech at the reward ceremony of the journal GQ in the nomination "Author of the Year". In his speech, the Gluchovsky made reference to the book called "Cippolino" of the Italian author Gianni Rodari and compared Russians with "vegetables" who are incapable of setting anything against "the occupational regime".
"All that is simply about us, all this – the occupational regime of fruits against people-vegetables", he said jokingly.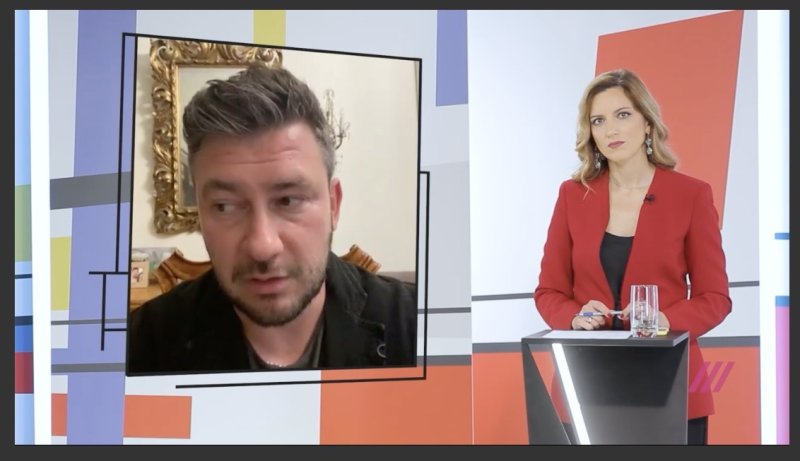 AN AUTHOR-BUSINESSMAN
Nowadays, Glukhovsky's oncomes do not depend as much on Russian market, as he receives a considerable part of funds from abroad. Evidently, that is the reason why he can allow himself to give up on Russian audience and not no return to Russia, declaring insolently that he will repeat with pleasure all words about Russian military men that were the reason for bringing criminal charges against him.
In general, Dmitry Glukhovsky seems to be a rather practical and grasping personality, a new type of author-businessman. His last legal entity in Russia the author closed in 2018, keeping only the status of individual entrepreneur. On his individual enterprise are registered trade-marks of "Metro 2023", and he receives income from author's rights. Before that, he was a co-owner of two OJSC: "Open Games" (development of computer applications) and "Future Kopf" (publishing activity). The name of the second legal entity is a reference to his dystopian novel "Future".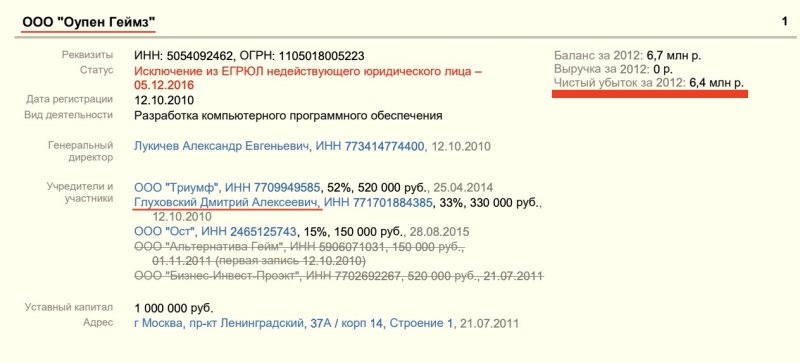 The first of his companies presented its records only in 2012: according to it, "Open Games" closed the year with a loss amounting to 6.4 million rubles. According to the data-base "Kontur-Fokus", "Future Kopf" had not presented its records at all to tax agencies during the whole period of its existence.
On the other hand, both these firms played as defendants in arbitration courts. 183 thousand rubles were collected from the company "Open Games" for nonfulfillment of obligations towards partners. As to "Future Corp", it presented behind time information on staffers to the Pension Fund and had to pay a fine.
However, all this is legal chronical of the past and not that successful economic activity of the author. But today, the individual entrepreneur Dmitry Glukhovsky is simply rolling in money.
In the second part of its ruling on the case No 2a-2062/2022, the Zamoskvoretsky District Court cited information received from Rosfinmonitoring (Financial Monitoring Service of the Russian Federation). From this data it became clear that Glukhovsly is receiving monthly tens of thousands of rubles from his foreign partners.
According to the information published by the court, in 2021-2022 Glukhovaky received following sums of money from abroad:
- the publisher of video-games "Koch Media GmbH" (Germany) paid in two tranches 85.6 million rubles in January 2022. This company owns the right for several computer games using the plot of the book "Metro 2033". Obviously, these were recurring royalties.
- "Ing Belgium SA/NV" (a Belgian bank) transmitted to Glukhovsky 14.99 million rubles in two tranches – from February to March 2022. These were either his personal means or fees from foreign publishers of his books.
- in December 2021, in one transaction, the author received 6.373 million rubles form the firm "Joel Gotler + Associates Inc" (Austria). This production center, obviously, was paying Glukhovsky for pitching films based on his screenplays.
- the firm "Nibble Bettina Barbara" (Germany) payed the author 28.5 million rubles. This is just another publishing agency that publishes Glukhovsky's books abroad.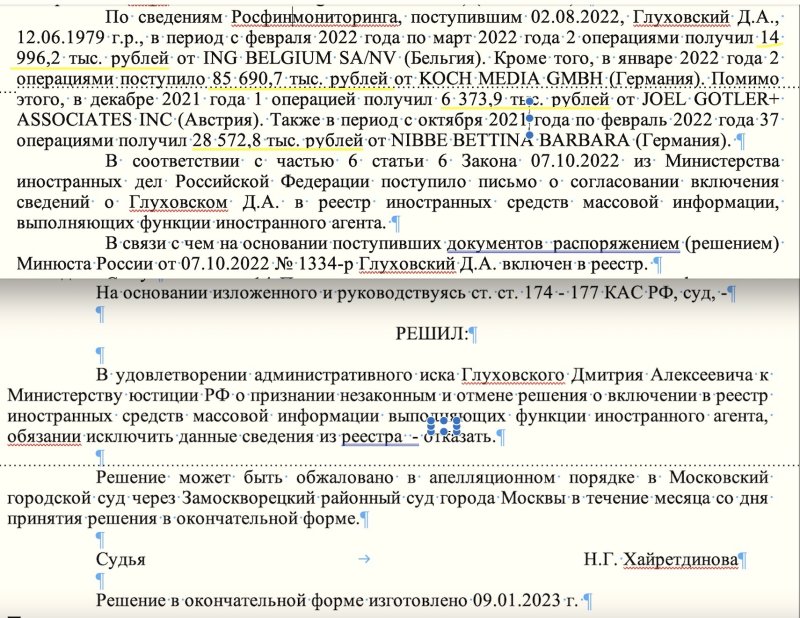 Thus, during only four months, from December 2021 to March 2022, Dmitry Glukhovsky received, in total, 135.5 million rubles in forms of authors fees and royalties from foreign legal entities. On the whole, these data influenced the decision concerning inclusion of Glukhovsky on the list of foreign agents,
CITIZEN OF THE WORLD SMEARING RUSSIA
Dmitry Glukhovsky is a person whom they would have called in the USSR "a rootless cosmopolitan". He has a valid Israeli citizenship, as well as residence permits in Germany and Spain. This became known during the investigation of his criminal case on fakes with regard to Russian army. In fact, a real cosmopolitan treats with equal respect to all countries and individuals, in contrast to Glukhovsky who demonstrates the opposite in his postings. That is why there is little from being cosmopolitan in Glukhovsky – except for pretending "to belong" to almost any country. The Israeli passport allows to visit without visas about 60 countries of the world, and, on the whole, it provides an opportunity to get visas in simplified way to 159 countries of the world.
Glukhovsky has been travelling in the world since he was a kid. He is the older son of the international observer Alexey Glukhovsky, a translator of Serbian poetry, employee of the Yugoslavian department of Gosteleradio (Soviet radio and television state committee). Having studied in a privileged school situated on the Arbat Street in down town Moscow (such schools are now called elite), Dmitry Glukhovsky went in 1990s to Israel to get higher education there, where a year of studies costed 3 thousand U.S. dollars, an unimaginable sum for majority of Russian population.
KALIAN SMOKE OF THE FATHERLAND
The shadow of such a well-known figure covers by itself other members of the family – the society doesn't know much what they have been up to. The website Prigovor.ru has found out the following: his full brother is the owner of the biggest factory producing tobacco for kalian. But, apart from that, he, as his older brother, has been earning money abroad. From 2001, their father has been living in the German city Baden-Baden. There has settled also the uncle of the author – Andrey Maratovich Glukhovsky.
This information contains in the registry of legal entities in Germany the uploading of which has received the website Prigovor.ru. Andrey Glukhovsky was itemized as the director of the Berlin firm "DarkSide Europe". From March 2022, the owner of this company has been Dmitry's full brother Pavel Glukhovsky.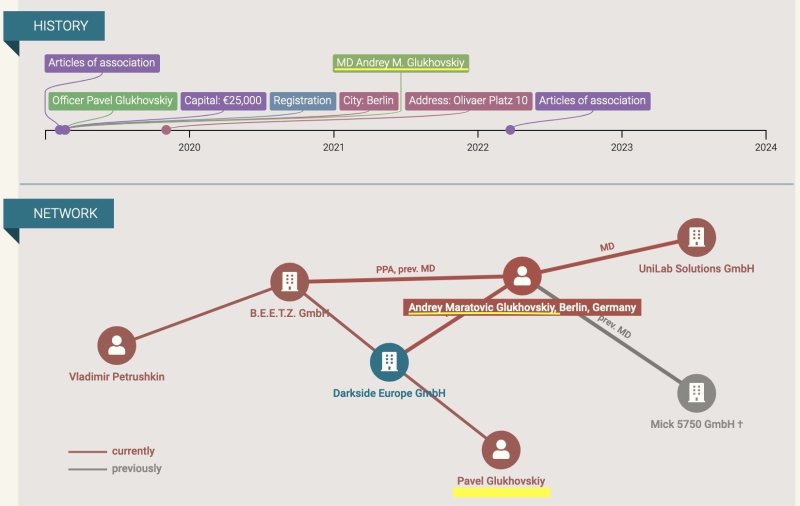 "DarkSide", naturally, means "dark side". It seems that it as a yet another reference to the cultural background – associations emerge with the movie-saga "Star Wars". Seemingly, all the Glukhovskys think up literary names for their businesses.
It becomes clear from the statuary documents: the company "DarkSide" sells to European stores equipment for smoking – pipes and tobacco for kalian. Among activities of the company is mentioned activities of kalian-bars.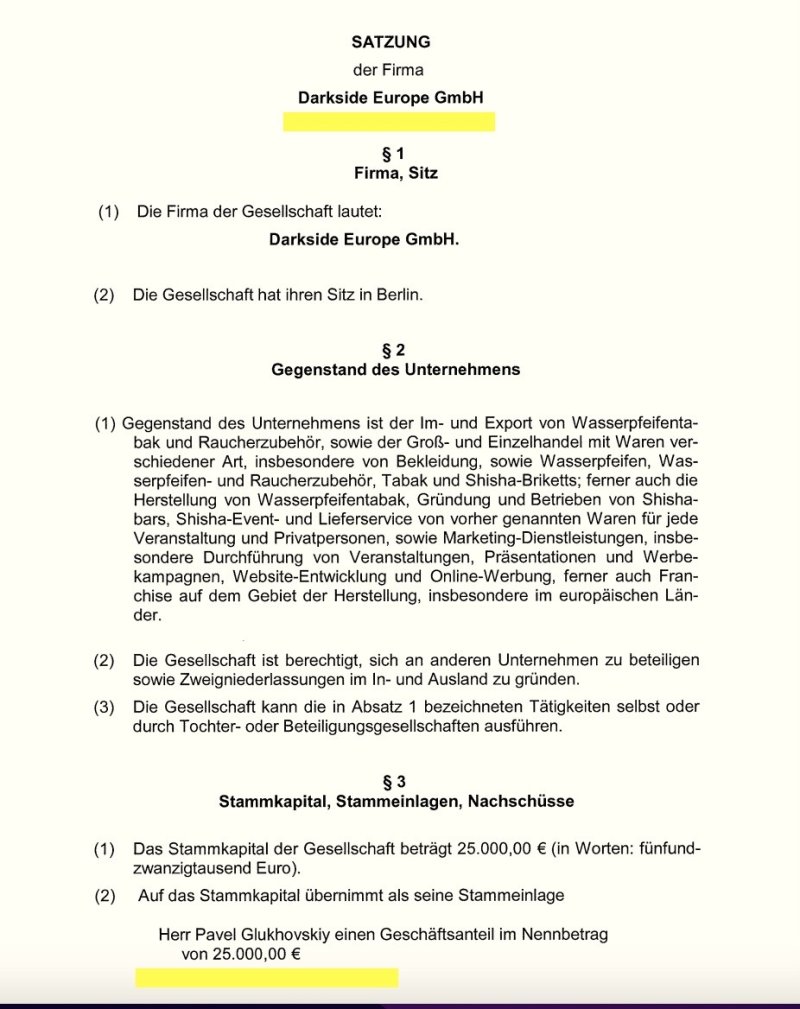 The German business of Glukhovsky's brother is a continuation of the Russian business. In Russia Pavel Glukhovsky, in different periods of time, opened dozens of legal entities. The most important of them are firms dealing with selling and producing tobacco, tobacco products and everything connected to smoking.
Apart from tobacco selling, Pavel Glukhovsky were opening construction companies, were engaged in advertising business, and is still itemized as a co-owner of a company making some king of ceramics. According to the company "Kontur.Fokus", the total annual turnover of all Russian companies, calculated on the basis of the latest actual annual reports, amounts to 2.1 billion rubles. It's important to point out that Gavel Glukhovsky is a partner, and his doesn't control in full the nominal capital.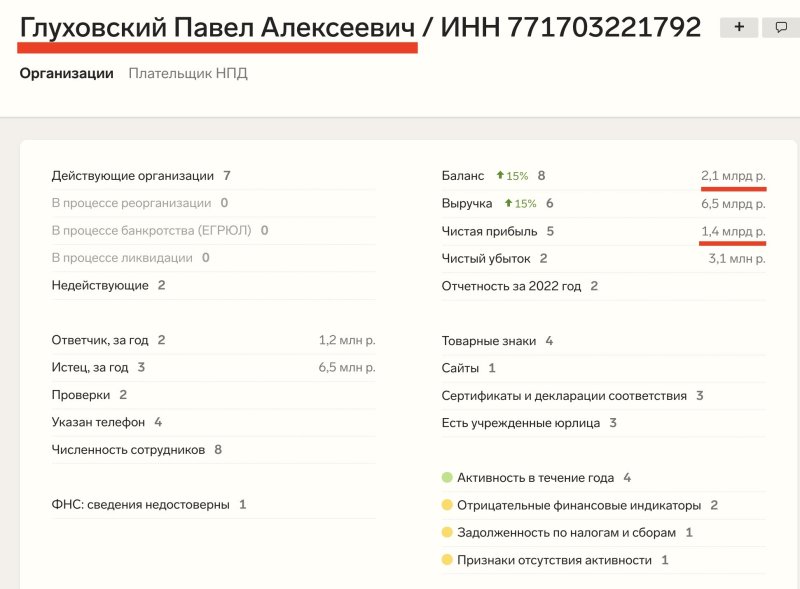 One of his biggest firms, OJSC "Tobacco Technologies", is registered in Moscow on Shosse Entusiastov Street. This Russian firm directly cooperates with the German company "DarkSide", and this is confirmed by the homonymous tobacco, the certificate of which belongs to the Moscow office.
Pay attention to the fact that this certificate was drawn by the Eurasian Economic Union.
In 2021, which was the most successful year, the company sold tobacco products to the amount of 1.5 billion rubles. Net income comprised 65 million rubles. Yet, in 2022, turnovers deflated, and the income reached only third of years before present – 660 million rubles. This can be explained by the introduction of Western sanctions – the plant lost its possibility to sell its tobacco to its "affiliate" in Germany and earn money on those who like kalian in Europe, as well as in any other foreign countries.
How could we understand that this factory is "the biggest in Russia" and that it belongs specifically to the brother of the author? Upon the request in the search engine "kalian tobacco DarkSide" emerges a website the link to which we do not provide in order not to advertise tobacco products. In its section "About us" on this site the company declares that it is "the biggest in Russia producer of kalian and kalian accessories". And it includes a map with the geography of the work – it stretches from Brazil to Germany and Russia. The answer is to be found in the section "Confidentiality Policy" of the website. It is said that the website is property of the group of companies "Premium Tobacco".
Two firms with this name are registered in the name of Pavel Glukhovsky. These are OJSC "Trading House Premium Tobacco" and OJSC "Premium Tobacco".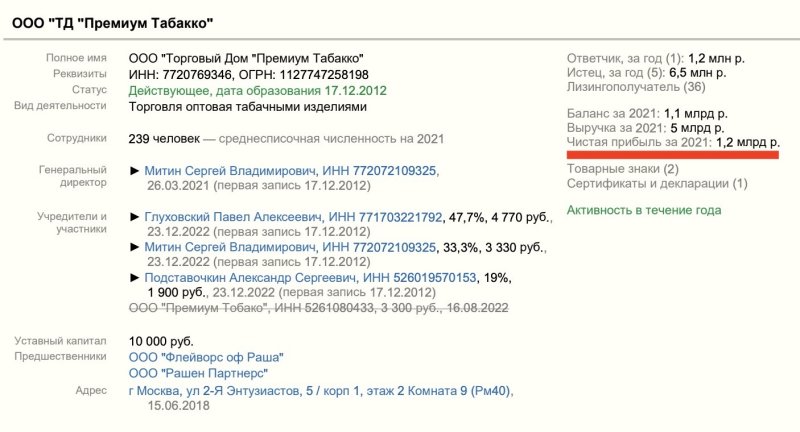 In March, certain Telegram channels found the Russian tobacco business of Dmitry Glukhovsky's brother, but they didn't detect its German branch. Incidentally, they made a hasty conclusion that the author himself allegedly controls the tobacco business through his brother. Yet, the website Prigovor.ru has not find confirmation for that. Anyway, as is known, in a family it happens like that – one hand washes the other. So, it's a fact that the well-being of the Glukhovskys is based on their business in Russia. Moreover, we would like to remind that the older brother, the author Dmitry Glukhovsky, earning millions in the country, cynically mutters about the whales the Russian state is based on: "on shoreless free dough, limitless patience of the people and on its endless naivety". It means that this literally businessman-Russophobe treats Russia like a banana republic.
Meanwhile, the information about Russian incomes of Dmitry Glukhovsky and his brother Pavel was leaked to the Internet, and there is obviously enough reasons to say that the Glukhovskys brothers are real candidates to the list of the richest businessmen of the magazine "Forbes".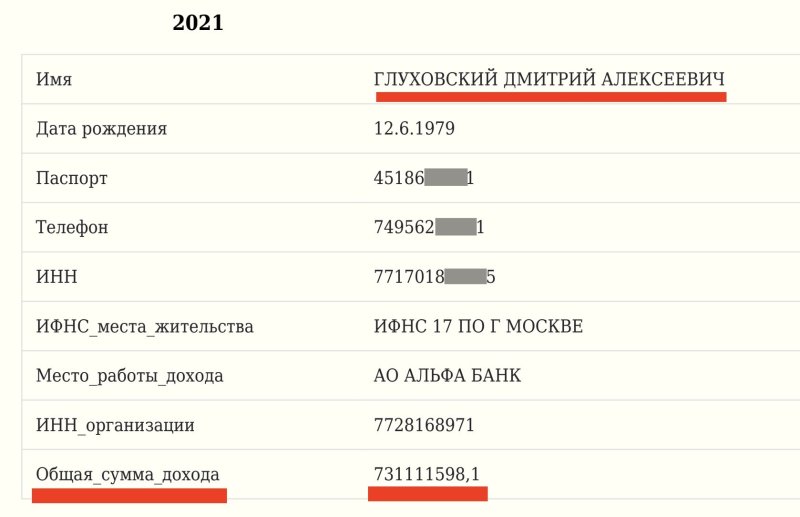 If we give credit to this information, in 2021, Dmitry Glukhovsky earned in his native Russia, which he despises and doesn't like, 731.1 million rubles. And his tobacco brother made "on the smoke of the Fatherland" 560 million rubles.
You would agree that the belletrist-businessman Dmitry Glukhovsky makes a fair living, using "the endless naivety" of the Russian people.
** "Important Stories" (Vazhnyye Istorii) – legal entity IStories Fonds, registered in the Latvian Republic (registration number 50008295751, date of registration 24.02.2020), included in the registry of foreign mass media fulfilling functions of a foreign agent on 20.08.2021;
** "Meduza" a media outlet included in the registry of NGOs fulfilling functions of a foreign agent by the decision of the Ministry of Justice of the Russian Federation from 23.04.2021;
** "Dozhd" – limited liability company TV Channel Dozhd, a media outlet included in the list of foreign mass media fulfilling functions of a foreign agent on 20.08.2021;
* Glukhovsly Dmitry Alekseyevich, on 07.10.2022 included by Ministry of Justice of the Russian Federation in the list of foreign agents with number 439.