"The road of Yukos to the top is paved with corpses". The publication in "Der Spiegel" about the criminal methods of Yukos provoked the onslaught of information activity of Leonid Nevzlin. The website Prigovor.ru reminds its readers of what happened on September 2, 2014.
On this day seven years ago, on September 2, 2014, Leonid Nevzlin, the serial mastermind of murders sentenced in Russia to life imprisonment, was nervous – the day before in the magazine "Der Spiegel" Igor Sechin, the head of the oil company "Rosneft", expressed his attitude on bribes and murders in Yukos.
"At that time, these misters meant it seriously. If somebody got them in the way, they immediately cleared the way. The rise of Yukos has been paved with corpses. This has been proved by Russian courts," said Igor Sechin. Whereat the reporter of "Der Spiegel" noted that in his written interview from the colony in 2010 Khodorkovsky denied that Yukos had ever used physical violence. (Western press, with rare exceptions, believe Khodorkovsky simply like this, of the say-so, and this belief has a nearly religious nature).
"Khodorkovsky didn't participate in it personally, but this doesn't prove that this didn't take place. I am not sure that Khodorkovsky, the head of the enterprise, knew nothing about it", said the interlocutor of the German journal.
The head of "Rosneft" told also about his personal experience of contacting a representative of Khodorkovsky's company. "I will tell you about my first contact with Yukos. In autumn 1999, I was just appointed head of the secretariat of the government of (Vladimir) Putin, and Vasily Shakhnovsky, one of the Yukos stockholders, made an appearance at my door without invitation. He quickly and head-on offered me a bribe. At this moment, we don't need anything from you, he said, we want to give you money regularly and want you to respect our interests. I chased this mister from my office. Later Khodorkovsky expressed it in the following way – I and Yukos could not line up mutual understanding".
"Khodorkovsky and Co are not saints, never have been. These people are not afraid of anything. Our law enforcement agencies, on the basis of the information that they have acquired, say that Khodorkovsky and Nevzlin contrive to take revenge, upon me including", said the head of "Rosneft".
So, it's on this issue that Nevzlin, the serial mastermind of murders who escaped to Israel, experienced an onslaught of information activity. All business publications began discussing the "rebuttal of Nevzlin" and his words that he together with Khodorkovsky were not planning to take revenge in connection with the Yukos affair.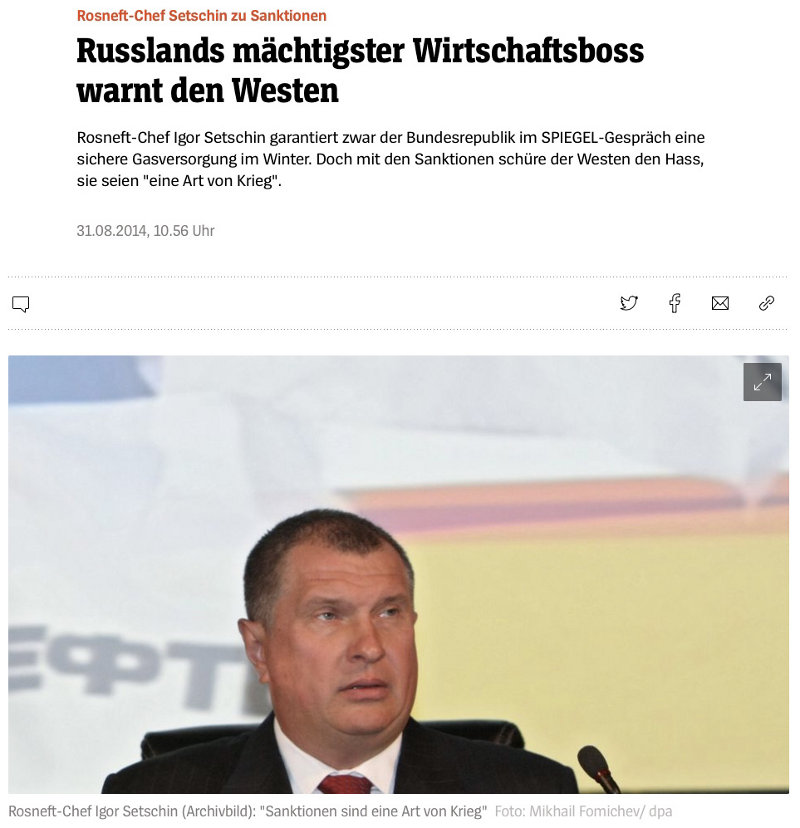 "I and Khodorkovsky have never discussed any revenge concerning Yukos affair upon nobody, not upon Igor Ivanovich Sechin", said in an interview with RBK the criminal Nevzlin.
Everybody has put up a semblance that they believe "serial" Leonid Borisovich Nevzlin, as they don't see the difference between the words "conceive" and "discuss". And apart from that, perhaps, because in editorial boards they know what "the censorship" of Yukos means. Apparently, though not in such aggressive forms, it is practiced in Israel as well.
So, no later than in 2020, when in Israel a political heat was holding, Yair Netanyahu, the son of the Israeli Prime Minister Benjamin Netanyahu, placed a post on his page in the social network Twitter in which he reminded that Leonid Nevzlin, the farther-in-law of the Knesset speaker Yuli Edelstein, was in search by the Russian authorities for murder. (Yuli Edelstein is married to Irina Nevzlina, the daughter of Leonid Nevzlin). Later this post was removed". One would think it's a trifle, but it's necessary to point out that it's a very characteristic trifle for "the devotees of the freedom of speech" from Yukos.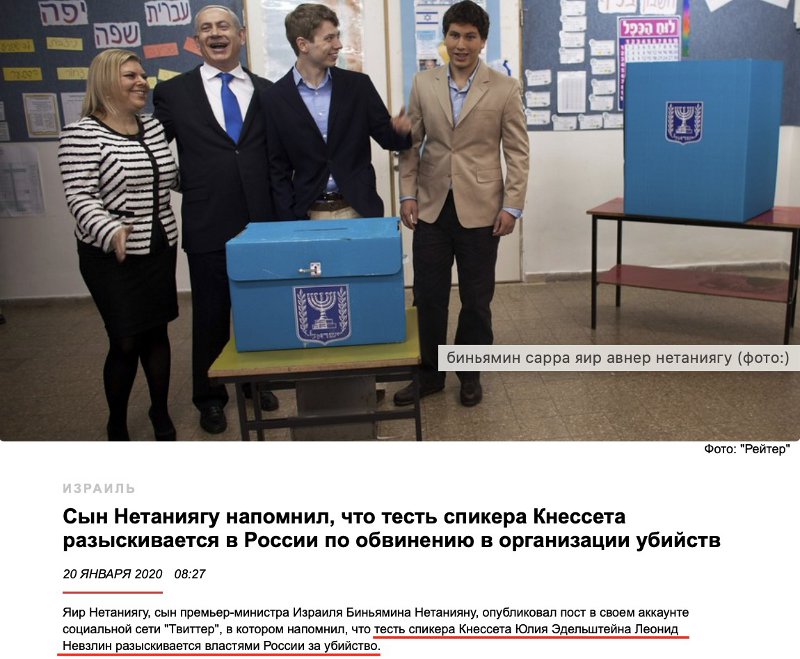 In Israel, Nevzlin has bought himself a reputation thanks to his multi-million contributions to various public projects as well as charity foundations. "The appreciative" society knows very well that this generous sponsor is adjudged guilty by the court in absentia on charges of organizing murders and attempted murders. However, it's commonly believed that "this verdict is political and unfounded". The money of the murderer is also money, so, as it seems, is the attitude of humanitarian organizations in Israel.
Mikhail Khodorkovsky, by the way, humbly kept mum as to the plans of revenge. And not for nothing – all the following actions of Khodorkovsky and his henchmen against Russia is an act of common revenge. In Russia Khodorkovsky and Nevzlin used to hire bandits, but nowadays the role of the henchman for them is played by the notorious "progressive public", "human rights advocates" of all kinds. And, sure enough, they have "an American protection" which uses such khodorkovskys and nevzlins in their geopolitical fight against Russia", notes the website Prigovor.ru.
(See also the previous story: "On this day, Khodorkovsky was giving a lesson of lying on the "Ekho Moskvy" radio station. "I think, the main participation of big companies in social life consists in paying taxes". Yukos lost a lawsuit in London. The website Prigivor.ru reminds its readers of what happened on September 1, 2003, and 2017.