A "Russian" NCO with a London accent. What's the purpose of the experienced swindler's "Justice for Journalists Foundation" in Kazakhstan?
The newspaper "Kommersant" recently published a story entitled "Freedom of communication" («Свобода сообщения») in which it was, correspondingly, reported that "a coalition of 11 Russian NCOs addressed the Committee of Ministers of the European Council with a report about the situation with the freedom of assembly in Russia".
In the very first sentence, this respectable business newspaper lied to its readers – not all NCOs that had sent this petition to the Committee of Ministers are Russian.
If we look at the published list of the "Russian NCOs", we can notice an interesting organization, namely the foundation "Justice for Journalists". The Newspaper "Kommersant" doesn't conceal that this foundation "was created by Khodorkovsky and his former business partner Leonid Nevzlin", but it humbly keeps quiet about the "place of registration" of this organization. To begin with, here is the native name of the foundation – "Justice for Journalist Foundation". On its site it is directly specified:
The "Justice for Journalists Foundation" is an NCO registered in London.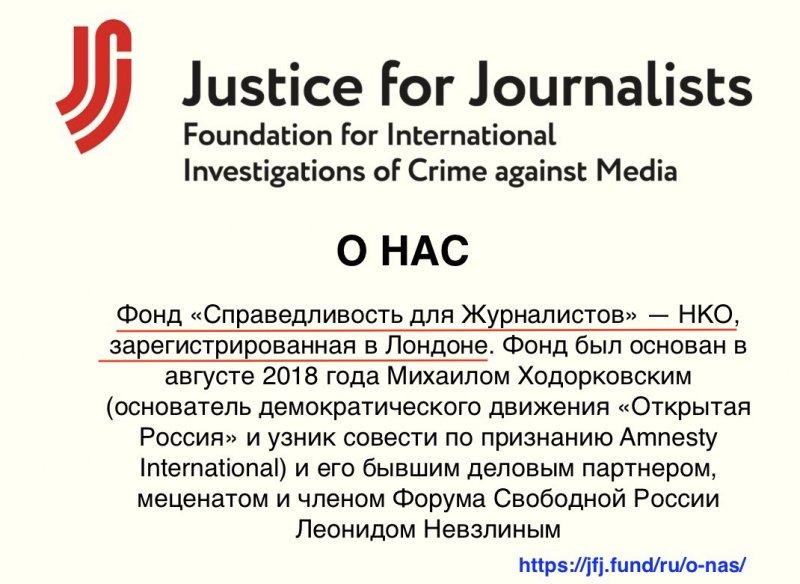 The registry of British companies also confirms the existence of this London foundation pretending to be Russian.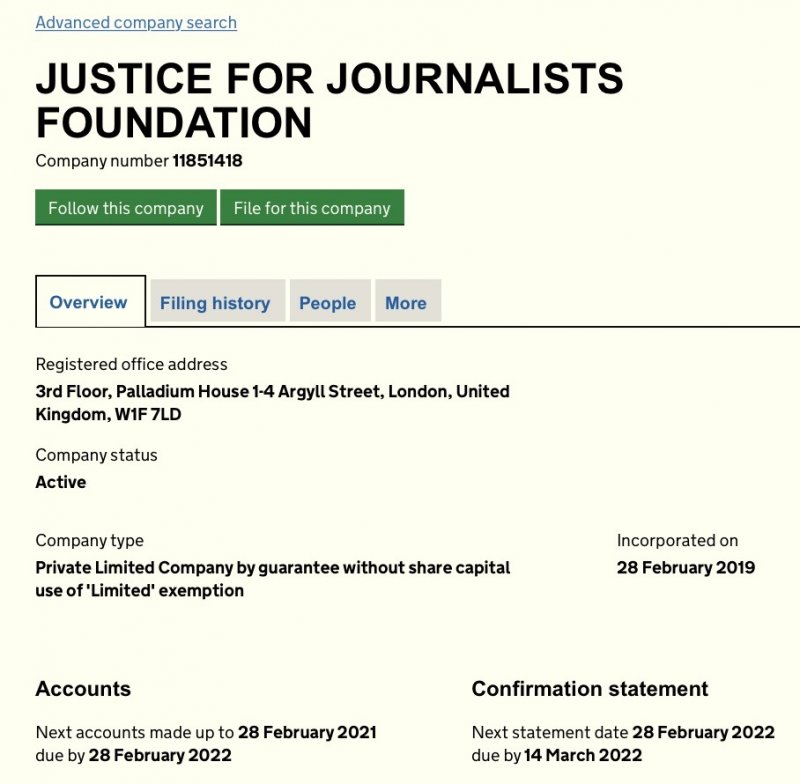 During the short period of its existence, the "Foundation for Journalists" has developed an active semi-underground activity. Though the Academy of the media security named after Orkhan Dzhemal, on- and offline educational programs are being carried out. Thereat, the most strict conspiracy rules are observed – no contact data are publicly available.
Declaring the commitment to freedom of speech and calling everybody and at each corner for transparency, the foundation itself and its "affiliate" academy live according to the principle of conspiratorial closeness. But, as we have already known and have already remembered - "this is different".
Apart from writing letters with complaints about the imperfection of the Russian laws, the foundation actively and generously distributes grants to journalists. These grants and rather considerable – each individual grant may amount to 80 000 dollars.
By the way, to avoid doubts about "objectivity and independence", and, obviously, to "select their old friends", questions are posed to candidates when they are filling forms – "Have you ever applied for/received grants from the Justice for Journalists Foundation", Oxford-Russian Foundation*, Hill Foundation, Future of Russia* or Khodorkovsky Foundation*?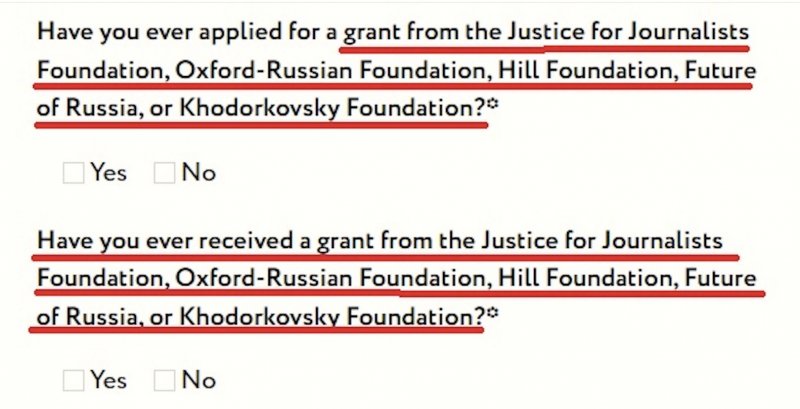 I.e., for organizers it is important to know – have you applied for grants and have you received grants from Mikhail Khodorkovsky's London structures, whereas the activity of the three of them have been already considered undesirable on the territory of the Russian Federation.
As a matter of fact, out of 11 "Russian" NCOs, one turned out to be from London, and yet another five have been recognized as foreign agents, receiving financial support from Western countries and working off their destructive agenda.
KHODORKOVSKY'S APPEARANCE IN KAZAKHSTAN
It's worth noticing that the mentioned foundation has been also trying "to instill justice" in the journalistic milieu of our neighbors, including Kazakhstan. The news about the possibility to receive a grant for Kazakhstan's investigative journalists hangs on the portal of the Kazakh International foundation for defense of freedom of speech "Adil soz".
"The foundation "Justice for Journalists" starts to collect applications for receiving annual investigative grants. Applications for carrying out journalistic investigations of crimes against employees of mass media will be received until March 20, 2022, through an online form.
The maximum sum of a grant amounts to 80 000 U.S. dollars. A grant covers transport and operations expenditures necessary for a journalistic investigation, including air tickets, hotels, transportation on the ground, payments for fixers, interpreters, as well as reasonable fees for a justified duration of a project. In selecting applications, the foundation will prefer reputable media and non-governmental organizations with strict accounting procedures and successful records".
This announcement is fresh – from January 18 of this year, i.e. Kazakhstan has not yet come to itself, but vultures are already there.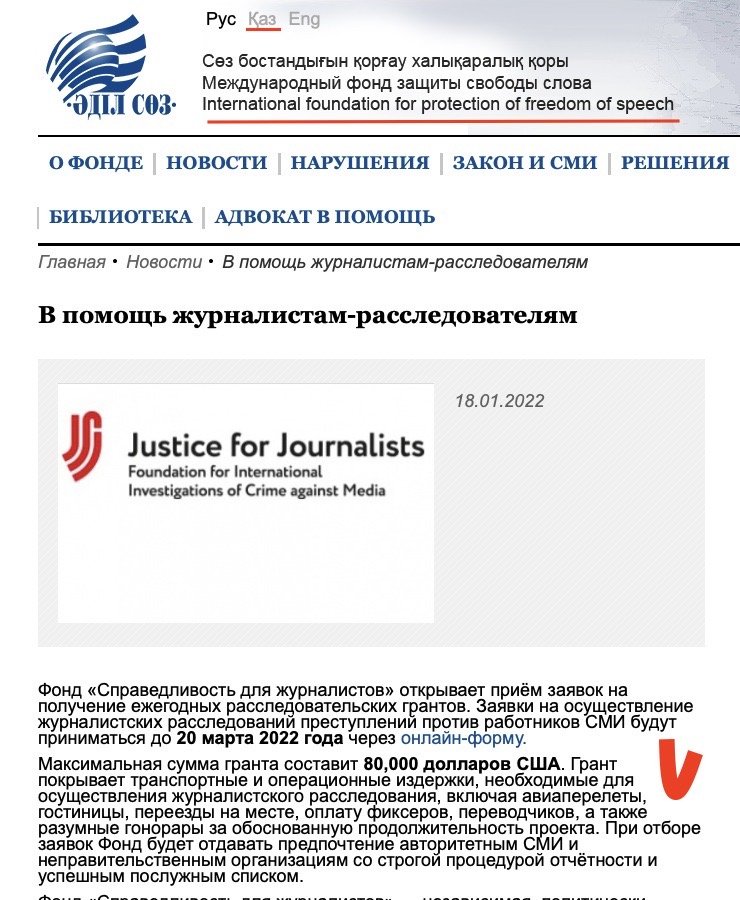 If you look at partners of the Kazakh's International Foundation for defense of freedom of speech, mentioned on the website, everything fits together at once.
"Projects of "Adil soz" are supported by the Foundation Soros-Kazakhstan, Open Society Foundation, and United States Agency for International Development (USAID)" (Kazakhstan's grant-eaters have misspelled the name of this agency at that), Mission of the European Commission in Kazakhstan, Kyrgyz Republic and Tadzhikistan, Organization for Security and Cooperation in Europe (OSCE), Cluster Bureau of the United Nations Educational, Scientific and Cultural Organization (UNESCO) on Kazakhstan, Kyrgyzstan, Tadzhikistan and Uzbekistan, non-governmental organization "Artikl 19" in support of freedom of speech, non-governmental organization MLDI "Media Legal Defense Initiative" (Great Britain), International Association for Defense of the Free Speech IFEX, Embassy of the Unites States of America in Kazakhstan, Embassy of the Kingdom of the Netherlands in Kazakhstan, Government of the Norwegian Kingdom, Finnish Foundation for Media, Information and Development VIKES".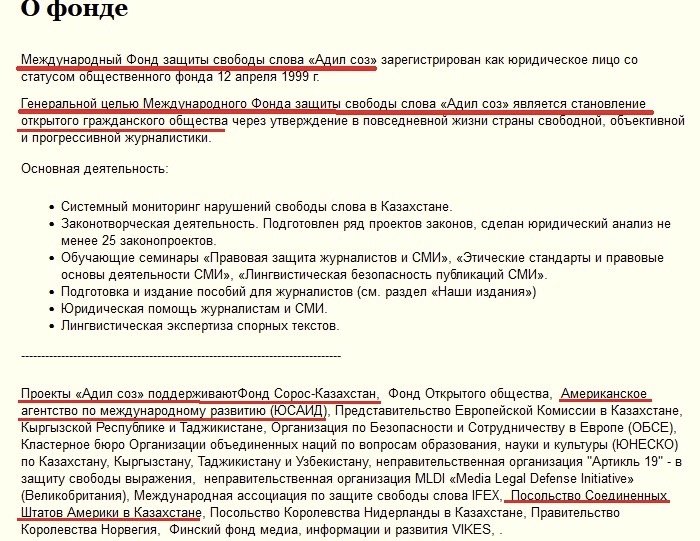 It's symptomatic that all NGOs recognized as foreign agents in Russia, as foreign organizations the activities of which are recognized as undesirable on the territory of the Russian Federation, now have bolstered their efforts in Central Asia. In particular, Open Society Foundation* the activities of which are banned in Russia by the order of the Ministry of Justice from 01.12.2015, steadily penetrates with its trowel to provide "the creation of a civil society" in Kazakhstan.
And now emerges Mikhail Khodorkovsky, "a well-known expert on Kazakhstan", together with his 'former business partner and Maecenas Leonid Nevzlin (in fact, his is a paymaster of serial murders and attempted murders, sentenced for that in Russia for life imprisonment. One might wonder what would Khodorkovsky's Justice for Journalists Foundation do in Kazakhstan? To impose "justice", American style.
*Organization the activity of which recognized as undesirable on the territory of the Russian Federation: Khodorkovsky Foundation, Oxford Russia Fund, Future of Russia Foundation, Open society Foundation.