The website Prigovor.ru has found out why a lot of mass media of Central Asia are turning their audiences against Russia. $50 million to KazAID from USAID*. $15 million for Internews.
Recent news – the United States Agency for International Development (USAID) has allocated the first tranche to the amount of 12 million dollars for Kazakhstan's noncommercial organization 'KazAID'. In the capacity of coordinator of this program 'KazAID' will distribute these millions among dozens of other NGOs. The purpose of the American financing is 'to raise immunity of the society in the face of disinformation', as well 'to elevate media literacy of the population'. We would like to remind that, according to American understanding, everything is called disinformation that doesn't fit into American picture of the world.
On the whole, according to USIAD data, it is planned to provide 50 million dollars for this project. In reality, all this money will be spent on promoting United States' interests in Kazakhstan. Besides, in 2022, the United States Agency for International Development (USAID) already channeled to grant receivers in Kazakhstan 15 million dollars.
(See also on this subject the article 'Soros ears in the steps of Kazakhstan'. How 'female moderators', 'female political analysts' and 'female sociologists' have organized a provocative poll in Astana on 'Russia's incursion')
Why Kazakhstan? It's a matter of borders. On the website of USAID devoted to Kazakhstan the reason of the financial interests towards this region is explained in plain language: 'Kazakhstan, being a country with the biggest economy in Central Asia and having common borders with China and Russia, is a key strategic partner in promoting democracy and supporting stability in the region'. And further explications follow: 'USAID in Kazakhstan has been promoting the Strategy of the Unites States government in Central Asia'.
So, what kind of strategy is it? It fact, it is simple and is loosely connected with beautiful words about 'democracy'. "Central Asia is a geostrategic region which is important for the interests of United States security', is said in the official document with the cynical title 'Unites States Strategy for Central Asia 2019 – 2025: Advancing Sovereignty and Economic Prosperity'. It means that the overseas State Department pouring 50 million dollars into Kazakhstan's 'civil society' is dealing with strengthening of its own national security.
Actually, it's for implementing of this American strategy that offices like 'KazAID' are created. This is the real side of American 'support'. All the rest are words and smokescreen, including 'selfless' injections into various 'prosperity' programs.
ROOTS OF RUSSOPHOBIA
Numbers explain a lot. For instance, it becomes clear why lots of mass media and popular bloggers are pitting their audiences against Russia. It's all about money. They are participants of the 'Central Asia media program (MediaCAMP) financed by USAID. 'The five-year program with the total sum of 15 million US dollars has been implemented by Internews and has been at work from October 1, 2018 to September 30, 2023', reported the United States Agency for International Development (USAID) on its own website.
'Internews" (an American NGO expelled from Russia) has been already acting for 5 years as coordinator and finance operator of the program MediaCAMP, 'it works with partners from Central Asian media outlets, academic community and civil society; it increases financial stability of mass media organizations as well as professional level of journalists, bloggers and civil reporters'.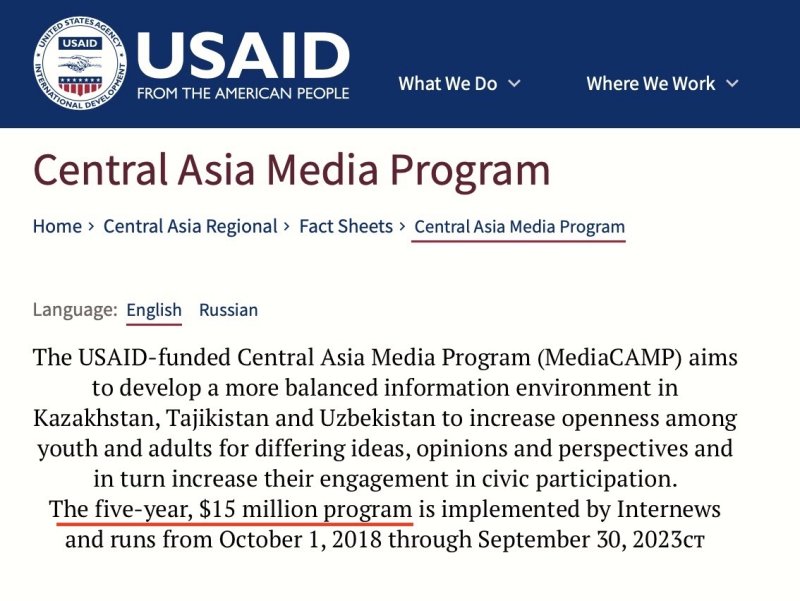 A whole plant of brain-washing has been deployed. Look at the data showing how many employees USAID and Internews have enticed/recruited during five years.
They have instructed – '200 journalists and representatives of mass media from Kazakhstan, Tajikistan, and Uzbekistan during the first three years of the program.
Help has been provided – 'to 6000 persons from these three targeted countries which has help them to evaluate information critically'.
Have created a network – 'consisting of more than 115 civil journalists in 35 towns, communities and regions on the whole territory of Kazakhstan and Tajikistan that have prepared more than 1000 pieces of content on local problems for 24 media outlets'.
They have also disseminated Internews manuals on media literacy – 'in 29 universities in Kazakhstan and Tajikistan for education of more than 1500 students on such topics as mass media and information literacy as well as journalism'. And so on and so forth.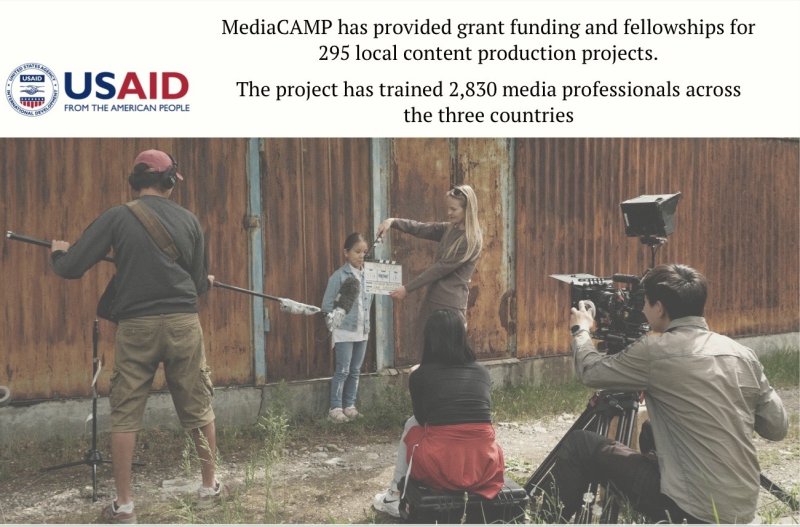 MediaCAMP has provided grants and scholarships for 295 projects on production of local content. They have published in Kazakh, Tajik, Uzbek and Russian languages more than 4 185 materials on gender violence, poverty, education, environment, youth. Within the framework of this project, 2830 specialists in the field of mass media in these three countries have been instructed.
'LOCAL GRANT EATERS HAVE STARTED TO MOVE'
The bribery of mass media and journalists with the help of grants in the three targeted countries (Kazakhstan, Uzbekistan and Tajikistan) has gone far, in the official press you would not find a weighted analysis of this absurd situation in the countries so proud of their independence. Except for telegram channels that periodically ringing the alarm.
'It's worth noting that, in spite of the fact that officially declared by USAID purpose is to provide help for countries of Central Asia for resolving problems of poverty, low quality of education, medicine and agriculture, the real activity of this American organization, as a rule, is limited to defending the interests of the United States in the region and to propaganda aims', writes an expert of the Kazakh telegram channel 'Nursultan nightingale'. 'It's not accidental that this structure of the US State Department, above all, pays in Central Asia for the work of dozens of newspapers, television companies and radio stations, and money from the United States receive politicians, public figures, journalists and even officers of law enforcement agencies, and in recent years a network of loyal representatives of bloggers has been being actively created for working in social media'.
'In one of the prestigious districts of the town Almaty a modern office has emerged where now are based the recently created entity under the name KazAID which is, as one can see, 'an affiliate' of the American monster (USAID). Last week, a piece of news went around that KazAID will distribute monetary means among local foundations promoting interests of the United States in the region. The official information says the money will be spent on events to increase mass media literacy and strengthening immunity to disinformation. In simple language, the money will go for financing TV programs, articles and media reports dealing with propaganda and promotion of United States interests. In other words, a state contract. Only an American one. Against this background, local grant-eaters have started to move. In particular, the so-called Youth Information Service of Kazakhstan (MISK) which has already told about hiring additional number of staff journalists', reports the telegram channel 'Segodnya.kz'.
We would like to remind our readers that Russia got rid of the 'cooperation' with USAID in October 2012, announcing that 'the character of the works of Agency's representatives have been not always in line with the declared purposes'. For instance, as it was explained in the Russian Ministry of Foreign Affairs, 'USAID has tried through dissemination of grants to influence political processes in Russia'.
At that time, by the way, her indignation over the termination of the work of the United States Agency for International Development expressed Victoria Nuland, official representative of the US Department of State.
'For more than 20 years that we have worked from the moment of the collapse of the Soviet Union, we have spent, on the whole, about 2.7 billion dollars. The budget of USAID for 2012 amounts to about 50 million dollars in addition to programs for development of civil society. We will continue to search for cooperation with those members of the Russia civil society who want to continue to work with us', said Ms. Nuland without any constraint.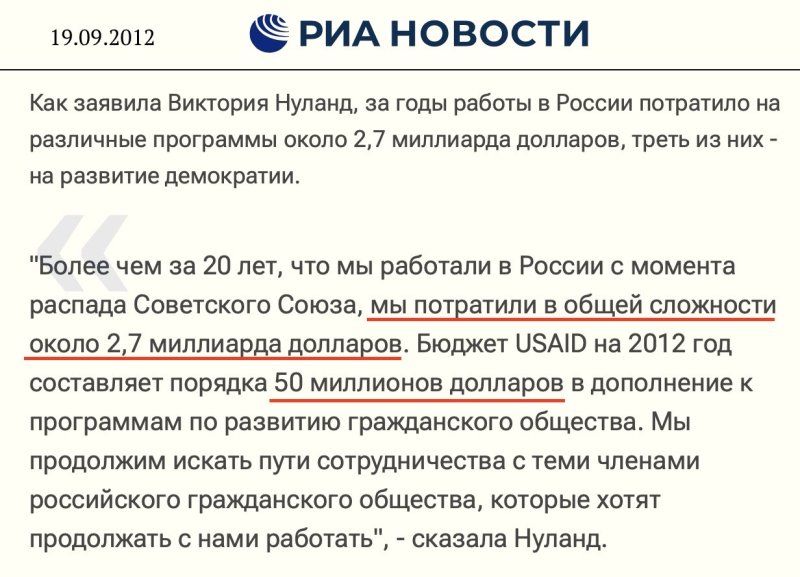 Pay attention to the coincidence in numbers. In 2012 USAID provided for working with Russia's civil society 50 million dollars. And now, for working with the civil society of Kazakhstan, 50 million dollars have been allocated. Guidelines haven't changed.
* USAID (United States Agency for International Development, USA) – in September 2012 Russia notified the United States of its decision to terminate USAID activities on the territory of the Russian Federation having given the USA a period of time to implement the ruling till October 2012. Among the complaints voiced to the address of USAID in Russia were mentioned systematic efforts to interfere in internal political processes, including elections of different levels. On September 18, 2012, the USA announced the closure of the offices of this organization.
* Autonomous noncommercial organization 'Internews Russia' (Foundation 'Educated Media'). In 2007, the leader of the foundation Manana Aslamazyan was caught trying to get through an undeclared monetary means. 'Internews' was suspected of legalizing monetary means and illegal entrepreneurship, and after that the Foundation hurriedly took the decision to liquidate itself.